(724) 443-0600 / (412) 961-0490
Home

About Uhl

Why Uhl
Why Choose Uhl ?
There are many general contractors to choose from within our region. So, why select Uhl over the others?
Uhl Construction
stands out for a variety of reasons, some of which include:
Provides over 91 years of experience!
Carries a bonding capacity up to $45 million, with a sound management system and financial resources in place.
Reduces environmental impact through sustainable building practices.
Participates in specialized training in the classroom and maintains apprentice programs.
Maintains the pace with design specifications, materials, and regulations.
Possesses total turn-key capabilities from project conception through completion.
Provides emphasis on a sound safety program, which greatly reduces the liability to owners and architects, as well as reduced downtime and delays. Our company participates in weekly "CAP Safety Talks/Toolbox Talks"
Participates in substance abuse testing and drug-free jobsites! Since we're drug-free, our associates are 30% more productive and 3.6 times less likely to be in an accident. One in every six fatalities on the jobsite is related to substance abuse.
Maintains an excellent "Experience Modification Rating", currently established at 1.072%.
Good communication, strong relationships, and constructive problem solving are just a few of Uhl's cornerstones.
Provides full-time management on each jobsite. Uhl is signatory with the carpenters, cement masons, iron workers, and the laborers.
Implements a "TEAM APPROACH" with the owners, architects, and subcontractors. We will provide proper execution, timeliness of the completion of the project, effective management, a safe jobsite, and superior quality of field supervision.
Each project owner/architect has accessibility to project management as well as senior management.
Selectrode Industries
Click here for details
LEED Building / Gold Rating
A.W. Beattie Career Center
LEED Building / Silver Rating
Butler Transit Authority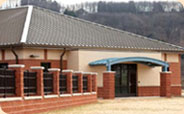 Click here for details
Copyright 2007 © Uhl Construction P.O. Box 8 Allison Park, PA 15101