(724) 443-0600 / (412) 961-0490

Home

Services

LEED/Building Green
Design, construction, and operation of built environments have a growing impact on human health, the environment and the economy. Green buildings demonstrate efficiency and comfort, and they contain amenities needed for a better quality for life. Uhl recognizes that green building practices can minimize use of natural resources while generating economic benefits that include lower operational costs and higher productivity.

Green building transforms the way built environments – from individual buildings to entire communities – are designed, constructed, and operated. Building green is also an integrative effort between all team members. This interdisciplinary approach allows for collaborative problem solving with a common goal of higher performance and lower environmental impact from the earliest stages of planning to beyond a structure's life.

As innovative designs (ultimately regenerative design) and practices are proving their effectiveness and new technologies and products are being introduced into the marketplace, the green building field will continue to grow and change and Uhl's building practices will also advance with these transformations.
Leed Building /Silver Rating
Butler Transit Authority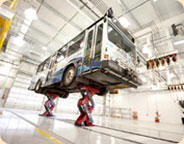 Click here for details
LEED Building/Gold Rating
A.W. Beattie Career Center
Copyright 2007 © Uhl Construction P.O. Box 8 Allison Park, PA 15101